Count Gist: Poll postions, Adopt a constituency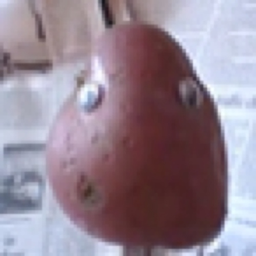 It's day 0 of the count. The country went out and voted on a Saturday, for the first time since 1918. And, like 1918, Sinn Féin seem to have had a pretty good outing. So now we have to COUNT THE VOTES!

And so, contrary to any common sense, I will be doing a Count Gist over the next few days as the boxes open.

Let's start with the exit poll.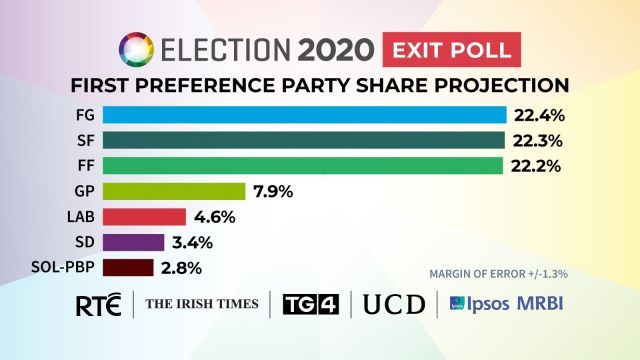 With a margin of error of plus or minus 1.3%, there is no meaningful difference between the top three parties in first preference share.

But there is a meaningful difference in the amount of seats they can win. FF and FG fielded candidates with the hope to pick up two seats in most constituencies- three in some places. SF were pulling candidates off the ticket after their weak Local Election showing. They only have 42 candidates. Mary Lou McDonald isn't in the same game as the other two parties. Not in this election anyway. And the terror of the two old enemies, FF and FG of what might happen with a second election, where SF could actually field enough candidates to scoop the proportion of the pot that 22% would give will loom large.

There are still only a few valves that lead out of this boiler room of electoral pressure. FF/SF, FG/SF, or, depending on how the magic of the count fell, SF/Everyone not FF&FG.

But the only one that could be put in place in a matter of weeks is basically a return of the FF/FG coalition (however described).

Anyway, tomorrow, here's what I'll be watching for:

Has the two candidate strategy FG used split their vote, losing them both seats where they had enough votes to take one safely? Watch: Dublin Central and Paschal's terror, Dublin Bay South and Kate O'Connell/Eoghan Murphy and finally Meath East and Regina Doherty/Helen McEntee.

Can the Greens get people elected outside Dublin?
Watch: Mayo, Clare, Galway West and whether Saoirse McHugh's and the other candidates Eamon Ryan described as 'Wild Atlantic Women' can snatch traditional FG second seats from them. A less homogenous Green Party is one with a much higher ceiling on it's future growth.

Repeal and its impact
Watch: Dublin Bay North, with lots of No candidates in a hugely Yes voting constituency.

Social Democrats and Labour
They're within the margin of error of each other in the exit poll. One is both a new party and has a very young membership. The other is the oldest party in the state in both a personal and institutional sense. If Labour hasn't got new, fresh faces elected may it be the first Irish party to just retire? Watch: Rebecca Moynihan in Dublin South Central and Ciaran Aherne in Dublin South West for Labour and Cian O'Callaghan in Dublin Bay North, Gary Gannon in Dublin Central and Niall O'Tuathail, Galway West for the Social Democrats

Finally:
Where will the SF surplus go?
They'll mostly get elected on the first count on these numbers. But they'll have hapes of spare votes. If their voters followed the urgings to Vote Left, the rest of the small parties could see dramatic improvements. But if they followed past experience, they are most likely to go to Fianna Fáil.
That's the question that'll likely decide the shape of the next government.
Watch: Everywhere.